HighForce®-U Linear Motor Stages
Overview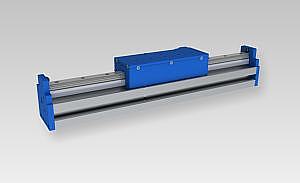 HighForce® stands for high peak forces in highly compact designs.

HighForce®-U are ultra-flat, ready-to-use, ironless linear motor stages with high peak forces und high dynamics. It is the ideal motion system for applications with short strokes, high synchronization requirements or very smooth motion.
HighForce®-U guides are constructed with a stiff rail mechanism, one rail, two ball carriages, front plate and an integrated scale.
Applications:

fast handling
high synchronization requirements
HighForce®-U Linear Motor Stages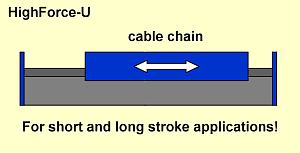 Characteristics:

ideal for short & long applications
Tec4Lin linear motors integrated
stroke available up to 1.696 mm (larger on request)
peak force up to 400 N
continuous forces up to 116 N
max. speed 5 m/s
max. acceleration bis 150 m/s²
positioning repeatability +/- 1 mikron, linearity error < +/- 10 mikron
suitable for all major 3 x 230 VAC servo controllers

Options:
absolute scale
stainless steel screws and guides
mechanical limit switches
braking units
additional passive guide on one rail
multi-axis cartesian robot configuration
cable chain
manufactured cable sets
HighForce®-U Positioning Controller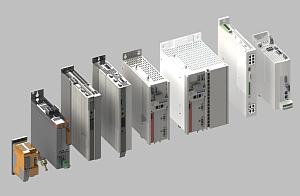 HighForce®-U linear drives are electrically designed according to the OpenLin® concept.
Guides designed according to the OpenLin® concept can be used with all current positioning controllers, regardless of the manufacturer. The linear motor elements, as well as the scale are industrial standards and the technical documentation is disclosed.


> OpenLin® page

HighForce®-U - Download Center

Brochures & Data Sheets
> HighForce® overview
> HighForce®-U data sheet

Installation, Maintenance & EC Guidelines
> Installation guide, maintenance instructions & declaration of conformity on request

Copyrights
Our texts, images, graphics, videos and sounds are subject to the protection of international copyright laws! For trademarks of others, see our copyrights.