FourDynamic® Linear Motor Modules
Overview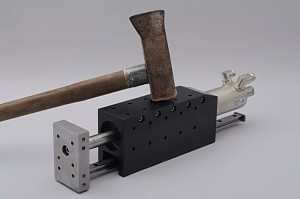 FourDynamic® stands for 400 V technology and for high-dynamic opertating data.
FourDynamic® is a set of linear motor modules with integrated tubular linear drives, with a design focus on low moving masses and maximum possible stiffness. The specified standard values for continuous opperations are 5 m/s and 150 m/s².

Applications:
punching
cutting
embossing
bending
thrusting
mounting
mating
compressing
decompressing
squeezing
sealing
welding
shaking
vibrating
condensing

swinging
printing
metering
filling
stacking
unstacking
sorting
palletizing
feeding
pushing
ejecting
selecting
checking
substituting pneumatics
FourDynamic® Linear Motor Modules FM10 - The Sprinters without Oil and Air
Characteristics:
very low moving masses
very thin construction
ideal for short stroke applications
PackTube® linear servo drives integrated
stroke up to 350 mm
peak force up to 2.700 N
max. speed up to 5 m/s
max. acceleration 150 m/s²
long operational life
positioning repeatability +/- 0,05 mm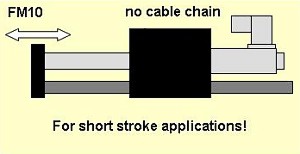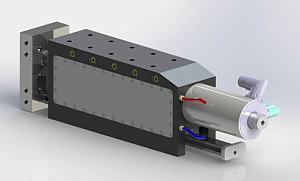 Options:
liquid cooling (see right picture)
cooling fan
external measuring system for repeatability of +/- 0,001 mm
pneumatic brake
FourDynamic® Drive System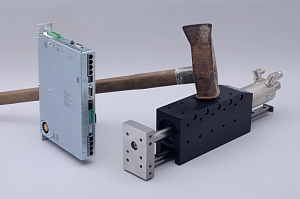 Our FourDynamic® series is based on PackTube® drives.
With a peak force of 2.700 N and an extremely mass-reduced guide system, the actuator system is one of the world's leading products wenn it comes to max. dynamics of linear motor modules. By connection to a fieldbus system, the FourDynamic® system can be easily integrand into complex machine controls.

FourDynamic® - Download Center

Brochures & Data Sheets
> FourDynamic® overview
> FourDynamic® data sheet

Installation, Maintenance & EC Guidelines on request
> Safety data sheet FDA grease for linear motors LU02
> Safety data sheet FDA grease for linear guides

Copyrights
Our texts, images, graphics, videos and sounds are subject to the protection of international copyright laws! For trademarks of others, see our copyrights.