Production and Quality
Merchandise management
Our warehousing was reorganized in 2019. The warehouse is now strictly ERP managed and currently has around 2,500 active warehouse positions. The material flow is designed for just-in-time production.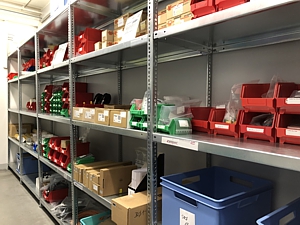 Production
Our work preparation (AV) and the production department is consistently controled by ERP and can be described as extremely efficient.
In terms of production and personnel, we can produce batches from 1 piece to 1,000 series. We achieve this through a forward-looking AV, which attaches great importance to the construction of fixtures and test equipment, even with small batches of e.g. 2 - 5 pieces.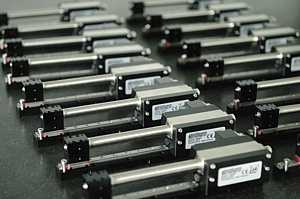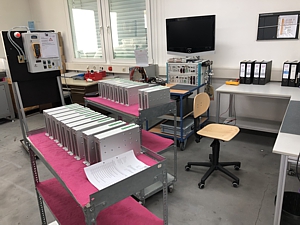 Incoming goods inspection
Every purchased component goes through a documented incoming goods inspection. This consists of a mechanical and/or electrical test. After this the assembly process begin. All test adapters and test systems (an example in the photo on the right) come from our own development and are precisely adapted to the specification of our preliminary products. This ensures a constant input quality level for ongoing production.
This has a very positive side effect for our manufacturing customers: With this equipment, we are able to diagnose repairs very quickly and reliably.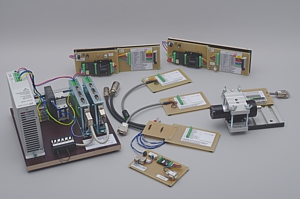 Tool maintenance and optimization
For us, Kaizen is not just a catchphrase!
Permanent improvement of the production equipment, tool calibration and tool maintenance are tasks of AV. The photo on the right is an example of crimping tools for our cable assembly. It shows how we use these high quality tools.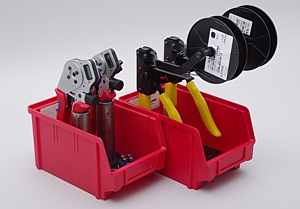 100% component test
A typical example of our QA thinking is the 100% cable test after cable assembly. It ensures the consistent quality of our servo cables.
A rejection rate has not been possible for decades. The photo on the right shows our cable test system with test adapters (from our own development) and the server-supported test system (3rd generation).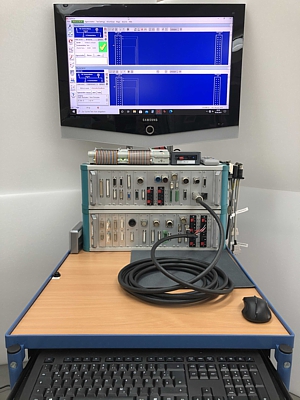 100% module test
At the assembly level, our actuators are subjected to a 1-hour long-term test. This test is not only used to verify functionality, but also to optimally distribute the grease materials and to allow the rolling bearings to run in. A noise and vibration control is part of this test.
100% final test and QS approval
All actuator systems are completely mechanically, electrically and functionally carried out a 100% test before delivery. In the case of time-critical applications, the actuators are equipped with the load masses or moments of inertia in the function test. These tests take place according to the four-eyes principle and are part of our quality assurance task. All positioning controllers receive an axis-related parameterization suitable for the customer application. A parameter sheet, which is always part of our delivery, documents of the checked dynamic limit data and represents the proof of function according to our offer in accordance with the customer's specifications.
We deliver turnkey axle solutions with a functional guarantee to our customers!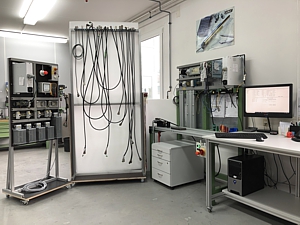 Quality system
Our company is not certified!
Since the company was founded, we have lived and worked as if we were ISO certified. Our deliveries have had a non-representable rejection rate for years.
Before starting his own business, Wilhelm Jung worked for a well-known automotive supplier and for a drive technology company in product development. The experience gained there in large-scale production has significantly shaped the working style for the own company.