QuickPos® Intelligent Linear Motor Modules
Overview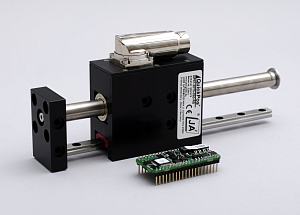 QuickPos® stands for high-dynamic linear motor actuators with integrated positioning controllers.
QuickPos® moduels are mechanically derived from and compatible with our HighDynamic® series. The design focus was on low moving masses, great stiffness and low expenses.
QuickPos® intelligent, miniature linear motor modules are the ideal subsitution for small pneumatic cylinders. Due to the renounced switchboard, the assembling efforts are reduced. Under the name HM01-2070 in our HighDynamic® series, the linear motor modules are also available without the integrated positioning controllers, which can use LinMot® positioning controllers.

Applications:

pushing
ejecting
isolating
selecting

grouping
sorting
checking
QuickPos® Intelligent Linear Motor Modules QP01
Characteristics:
ideal for dynamic short stroke applications
Width only 35 mm
usable in the tightest of spaces
QuickShaft® linear servo-drives integrated
positioning controller integrated
stroke up to 80 mm available
peak force up to 23 N
max. speed 2 m/s
max. acceleration 50 m/s²
very low moving masses
positioning repeatability +/- 0,06 mm
operating voltage 10 - 30 VDC
turnable right-angle connector
CANOpen or RS232 interface
randomly programmable
2 SPS inputs & 1 SPS output
mechanical connection points compatible with our HighDynamic® series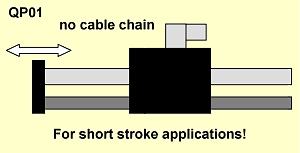 QuickPos® - Download Center

Brochures & Data Sheets
> QuickPos® data sheet

VideoClips
> #07 - Faulhaber promo video
> #27 - QP01 demonstration

Installation, Maintenance & EC Guidelines
> Installation guide, maintenance instructions & declaration of conformity - QP01

Copyrights
Our texts, images, graphics, videos and sounds are subject to the protection of international copyright laws! For trademarks of others, see our copyrights.