QuickAx® Linear Motor Stages
Overview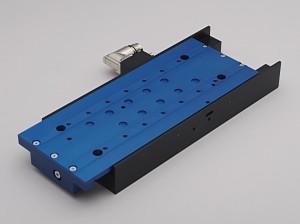 QuickAx® stands for high-daynamic opertating data.
With our QuickAx® series, we offer ultra-flat precision stages with integrated high-dynamic linear motors, as well as high-resolution scale sensors. The specified standard values for continuous opperations are 3 m/s and 100 m/s² and the positioning accuracy is +/- 1 micron.

Applications:

palletizing
scanning
optical processing

mechanical processing
controlling
QuickAx® Linear Motor Stages QT01
Characteristics:
ideal for short stroke & dual-axis applications
ultra-flat & torsion stiff
LinMot® linear servo drives integrated
stroke up to 120 mm
peak force 67 N
speed up to 3 m/s
max. acceleration up to 100 m/s²
positioning repeatability +/- 0,001 mm
X-Y-combinations without adapter plate
long operational life
silent operation
concector pinning compatible with LinMot® systems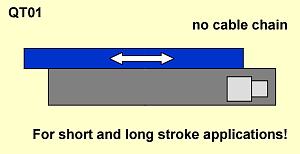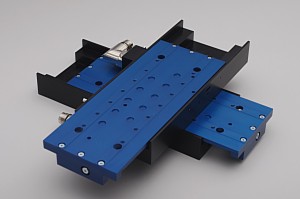 QuickAx® Positioning Controller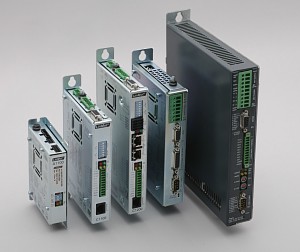 For our QuickAx® motor series, we preferably use controllers out of the LinMot® range.
Alternatively, controllers from FAULHABER and TECHNOSOFT can be used.


Characteristics:
24 VDC logic supply
48 - 72 VDC power supply
8 - 32 A output current
selection of positioning tasks with freely definable motion profiles over I/O's or fieldbusses
oscillating motion
analog position target 0 - 10 V
pulse & direction inputs
master-booster or gantry mode
master-encoder synchronization
streaming mode
input for external high-resolution positioning sensor
variable homing modes
Safe Torque Off (STO)
fieldbusses EtherCAT, POWERLINK, PROFINET, SERCOS III, TCP/IP, Profibus-DP, CANOpen, DeviceNet
licence-free configuration tool LinMot-Talk
controller configuration according to motor and application data

QuickAx® - Download Center

English Brochures & Data Sheets
Coming soon!

Installation, Maintenance & EC Guidelines
> Installation guide, maintenance instructions & declaration of conformity on request

Copyrights
Our texts, images, graphics, videos and sounds are subject to the protection of international copyright laws! For trademarks of others, see our copyrights.